Motivation Children's Active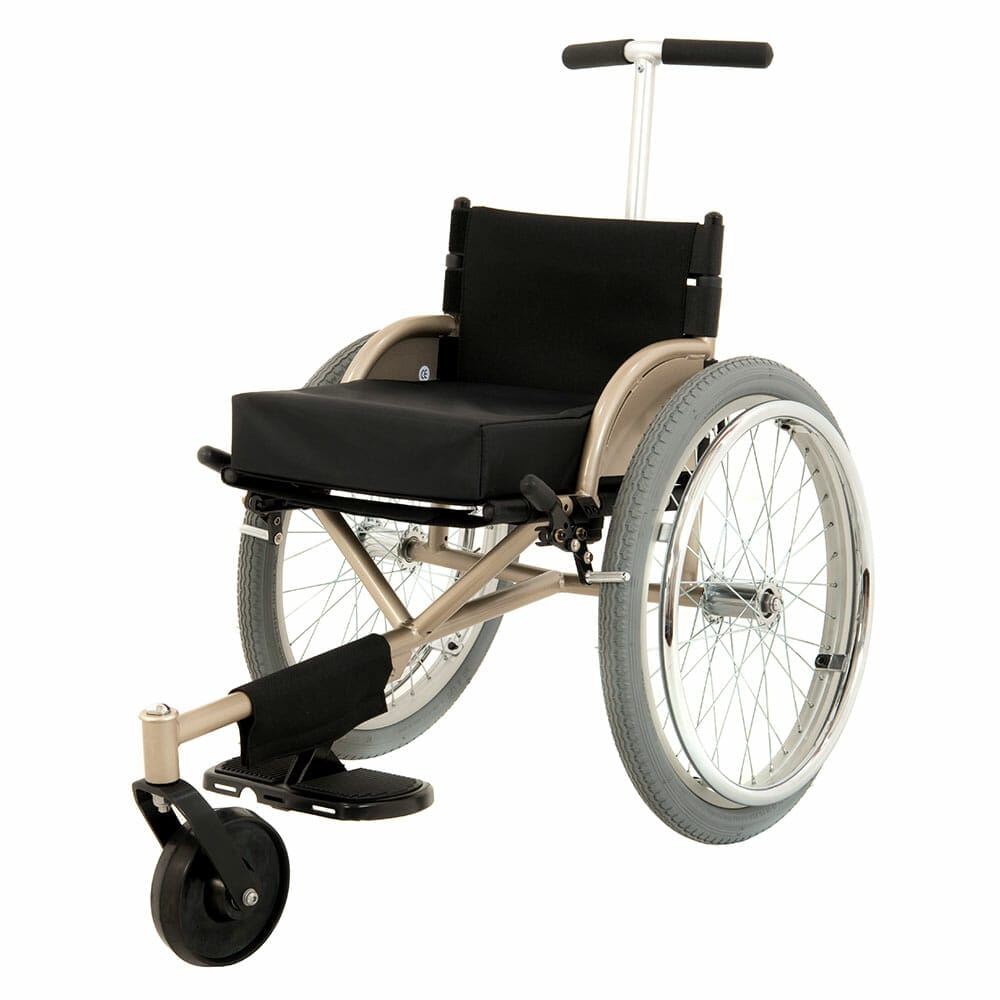 Supplier

Motivation

Overview

An adjustable, active style wheelchair for children 

Designed for better performance over rough ground and in conditions normally found in rural areas, but can also be used in urban and semi-urban areas

Includes a contoured pressure relief cushion, which can be cut to size for each user

Intended Users

Children without complex postural support needs who regularly use a wheelchair

Price list available upon request.

Contact a sales agent for a free quote. 
PRODUCT DETAILS
Tubular steel frame, with aluminum components and zinc plated steel fasteners

Rigid frame

A single medium size rubber castor wheel at the front and a long wheelbase to help the user to propel safely over uneven and inclined ground

Posturally supportive padded fabric backrest, with tensional adjustable straps

Adjustable backrest height

Adjustable footrest height, depth, and angle

Adjustable seat depth

Ergonomically positioned and height adjustable push handles with non-PVC grips 

Includes curved armrests

Includes one calf strap

Pelvic strap included
Anti-tip wheel

Pneumatic, medium tread tires

Chromium plated steel pushrims

Quick release axles

Water resistant and fire retardant nylon fabric upholstery

Includes a contoured pressure relief cushion with a water-resistant, size adjustable cover

Easily collapsible for transport: the rear wheels can be removed, and the push handles can be lowered, without requiring tools

Reflective stickers in the front and back of the wheelchair

Certifications: ISO 14001 (2018-2021), ISO 13845 (2019- 2022), OHS180001 (2018-2021)

Passed

ISO 7176, including fire retardant foam and fabric

For details on the CLASP warranty, click

here. All wheelchairs must be registered in order to activate warranty coverage.
SIZES
Manufacturer Product Number
K3 – 02
Seat Width

12" (30 cm)

Seat Depth

9.4" (24 cm), 10.4" (29 cm), 13.4" (34 cm), adjustable

Backrest Height
7.9" (20 cm), 14" (26.5 cm), 13" (33 cm), adjustable
Back Angle
Fixed
Arm Support
Fixed
Footrest Height
Adjustable, 8.7" – 11.4" (22 cm – 29 cm) measured from the seat to the footplate
Rear Wheel Dimensions

20″ x 1.75″ diameter 

(50.8 cm x 4.4 cm) pneumatic tires, with 36 spoke aluminum rims

Rear Wheel Axle Adjustability

Fixed, one position

Caster Dimensions

6" x 1.6" diameter (15 cm x 4 cm) rubber castor wheel

Overall Width
22.7" (57.6 cm)
Overall Length
34.9" (88.6 cm)
Product Weight
24.9 lb (11.3 kg) including cushion
Weight Capacity
110 lb (50 kg)
Packaging
One unit per carton
Package Size
32.7" x 20.9" x 16.1" (83 cm x 53 cm 41 cm)
Package Weight
29.8 lb (13.5 kg)
ACCESSORIES
Tire repair kit

Tire pump

Basic tool kit:

2 multi-function spanners, 1 4mm Allen key, 2 5mm Allen keys, 1 6mm Allen key
SUPPORT MATERIALS
Have questions about how the ordering process works?
Find the most appropriate product for the people you serve.